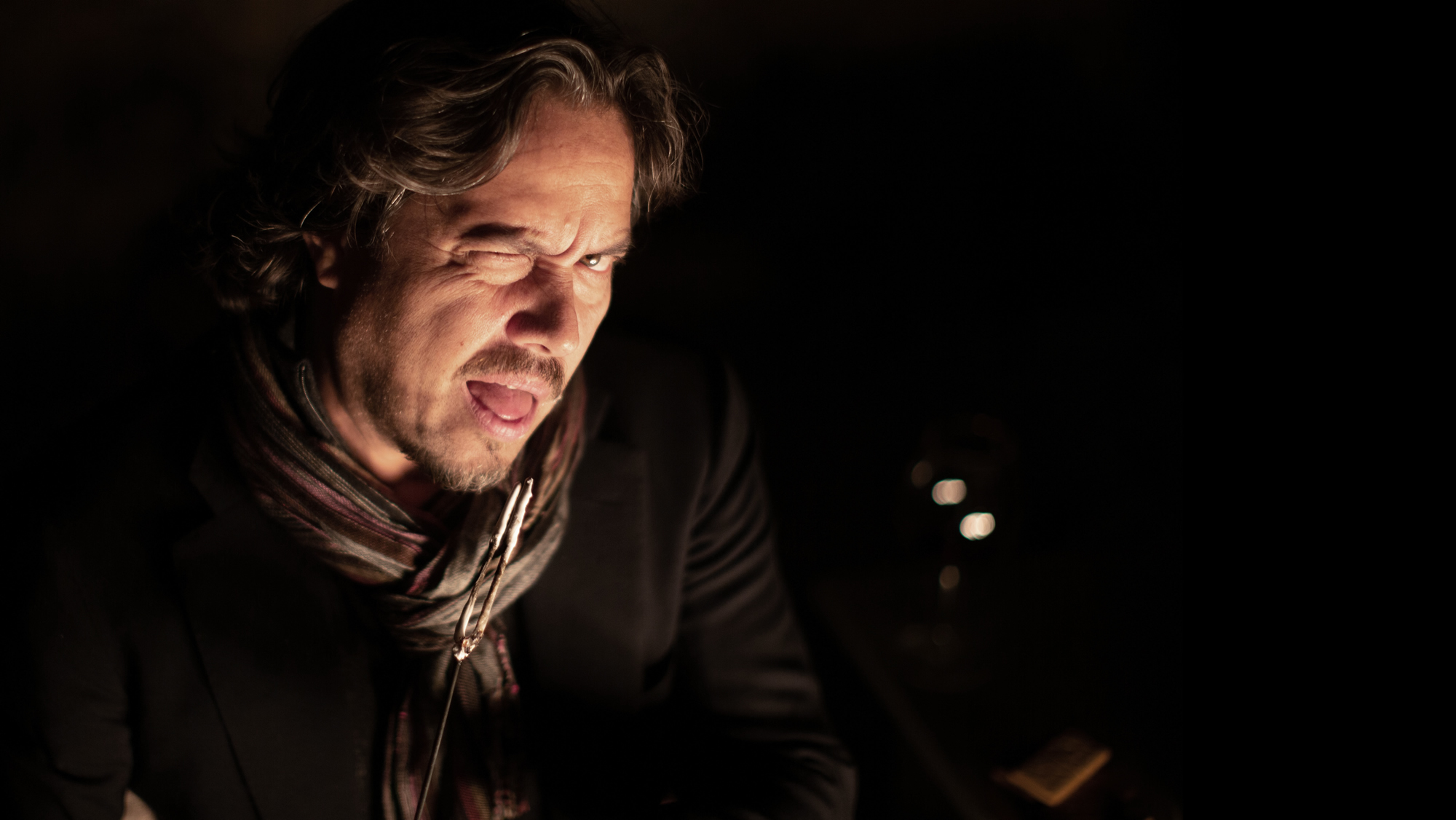 Talking Design with ARCH Co-founder:
Gard Hollinger
You don't like to label yourself as a designer.  What's up with that?
I've spent most of my life designing, engineering or re-engineering all kinds of things. However, I have great respect and appreciation for the time, dedication, and investment required to gain a formal degree. I wouldn't call myself a "Designer," "Engineer," etc… any more than I would call myself Dr. Gard.
You have a strong background with design-driven creations. When did you realize that you had an eye for design?
I have no awareness of a "realization" per se. I've probably always been cursed with a more visually driven brain/psyche, the rest is likely driven by my OCD. That said, motorcycles have always been my passion, so I am always thinking about concepts and ideas. Keanu and I will often throw around ideas until we find a general direction that we feel is compelling. As the work moves to our Design Department, we may use sketches and a lot of conversation to bring any ideas to some kind of visual level. Since expanding our design team, we've been fortunate to add some great new talent which often adds other perspectives to consider. The additional input can help broaden our thinking. We try to balance art with engineering in equal measure, not allowing one to overpower the other. We've understood from day one the need to accommodate production processes and we now have much more knowledge of vehicle type approval and regulatory constraints from around the globe. Being a young–and still agile company–we are not tied to one set of design principles. It's important that we maintain brand qualities that are apparent across our motorcycles, but we also have the freedom to experiment and try new things. I don't ascribe to the theory that form must follow function, I believe form and function must work hand in hand.
How do bespoke production motorcycles differ from custom bikes?
The main differences are the regulatory factors. The real challenge, which I enjoy, is maintaining the artistic qualities while respecting regulatory guidelines. We approach challenges as opportunities for design rather than hindrances. A custom motorcycle doesn't necessarily need to comply with multi-state legislation. Many are built as art without the need to consider dynamics, safety, ergonomics, or emissions. The key to the KRGT-1 has been to maintain the style and feel of a unique product but also have all the standards and qualities you would expect from a major mainstream manufacturer.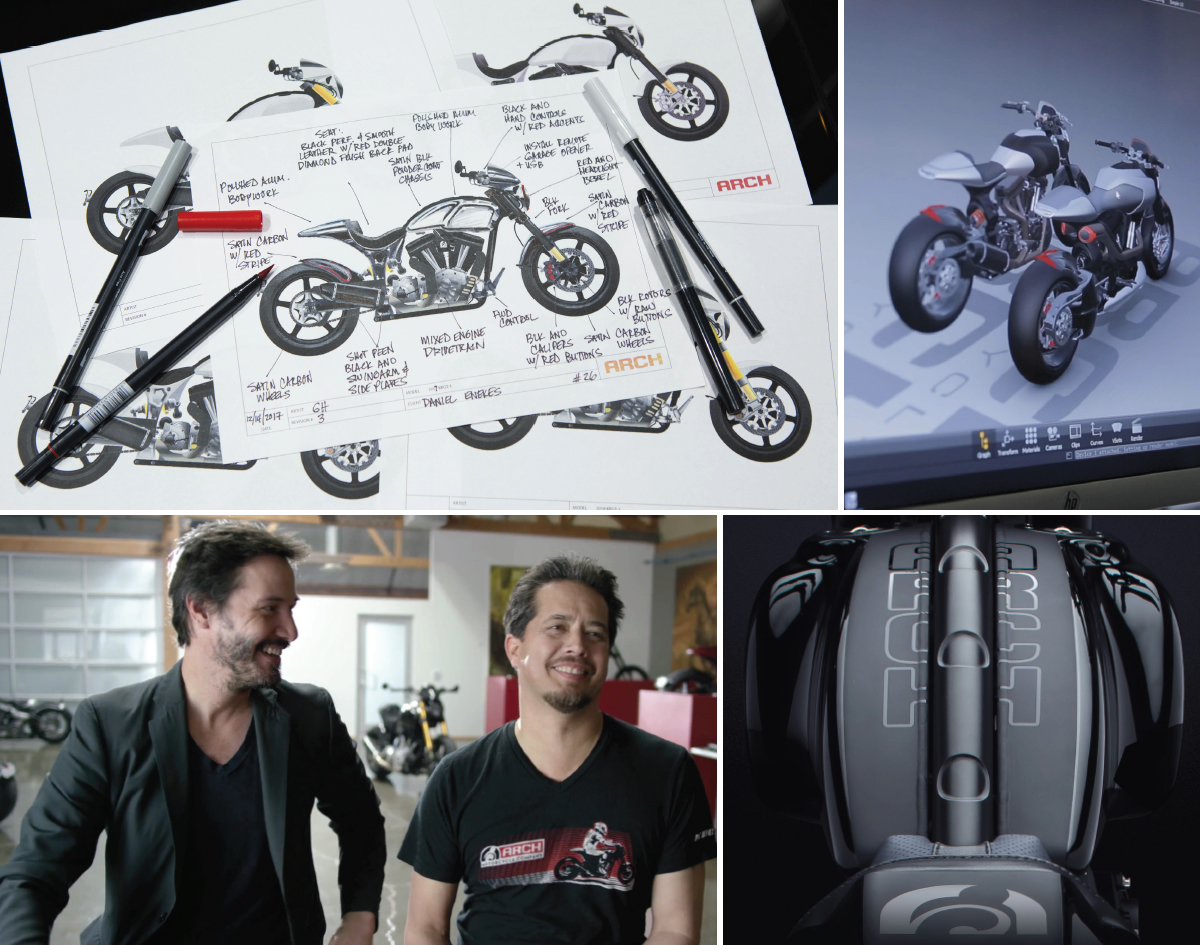 How does the design process work at ARCH?
The process is somewhat regimented by necessity to accommodate production; however, it is balanced with an artistic view/process as well. Of course, an overarching (pun intended) design credo guides the entire process from beginning to end. We generally start with an idea or concept. Then we work the concept through sketch ideation and internal discussions. The goal here is to try to clearly convey the idea/ideas we have and incorporate those visually. Once the direction is refined/decided, then 3-D rendering begins. We may use various 3-D software depending on the item/shape, etc. Engineering/mechanical refinement also usually happens during this process, even if discussed much earlier. Once the 3-D modeling is complete (and there may be numerous versions/revisions/refinements explored) then industrialization and ultimately production phases begin.
We usually go through a series of detail changes and modifications. This is where the OCD that I mentioned earlier comes into play. We make as many improvements as possible in the digital phase. We use some pretty state-of-the-art software combined with virtual reality to get as close as possible to the finished product before we start assembling a real prototype.
We then build a styling mule product that may use a combination of existing parts along with new 3-D printed or CNC-machine-created components. There is nothing like seeing a life-size physical product. You can achieve a lot with technology but seeing how materials and components combine, seeing how shapes move when you walk around a motorcycle, how real lighting conditions play on materials, and getting the reaction from the wider team are all really important factors.
The Method 143 is an incredibly striking design. How did that motorcycle come to life? What inspired the carbon fiber mono-cell?
The Method 143 was born from the exploratory work done when refining the 1s. I created an ideal profile view for the 1s as far back as 2016 after having already experimented with alternative versions of the KRGT-1. I'd always seen ARCH as a three-model company, but you crawl before walking and walk before running.
We committed to bringing new models to the Milan EICMA show in November of 2017: an updated KRGT-1 and the 1s. In July of that year we met an auto industry designer named Thomas Fleuret who had opened his own design studio, Vintech, in our neighborhood. Vintech helped us expand our design "toolbox" by introducing us to some advanced software and modelers.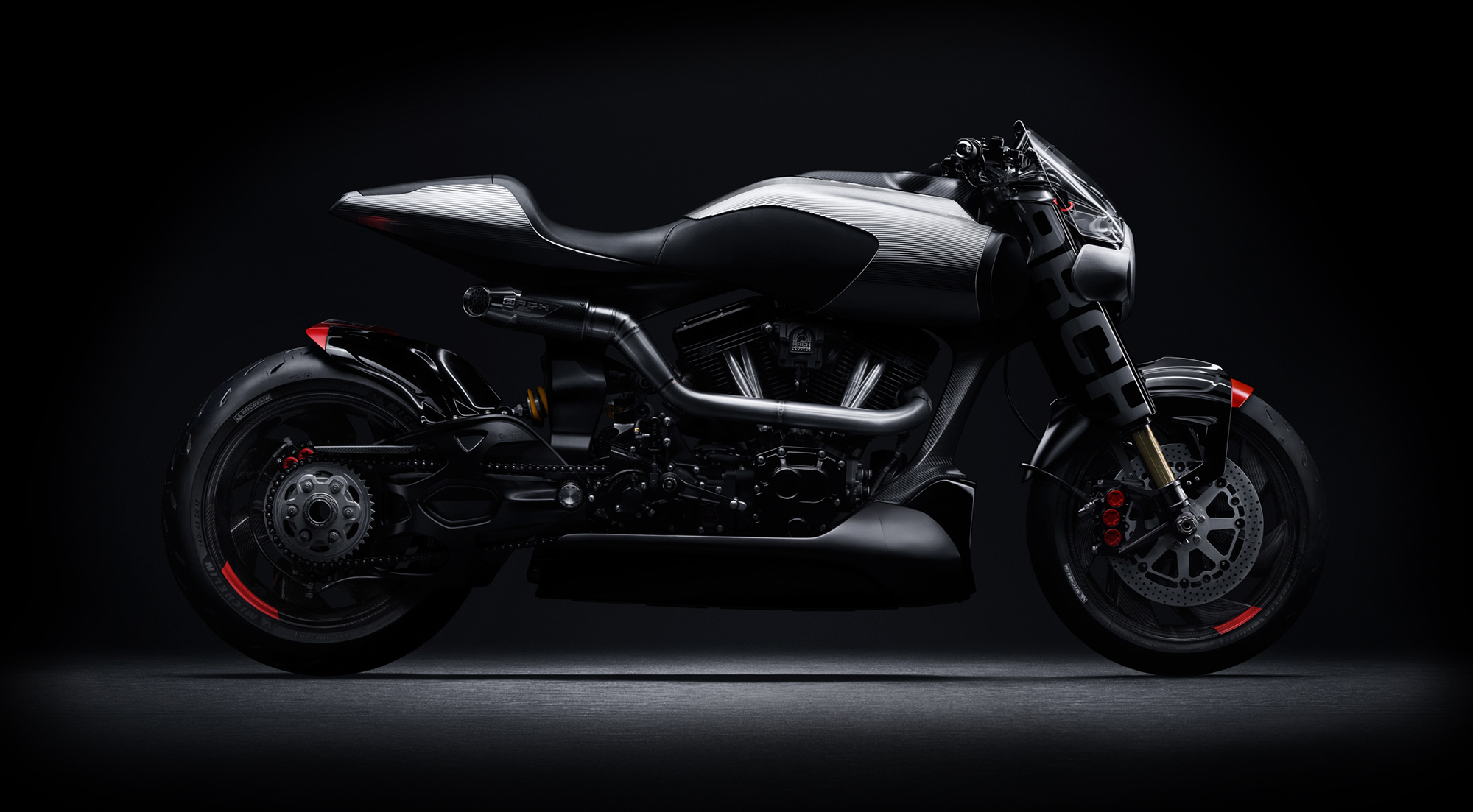 During the process of developing that initial 1s concept into a 3-D version, Thomas proposed some designs that were more extreme than the original 1s concept. What he was proposing pushed the aeronautical, nautical and nature influences that are hinted in the 1s design even further. We decided to develop and refine the design to establish the first of what I'd always thought a third motorcycle in our line-up would be… a limited production motorcycle that pushed the boundaries of design and use of materials to the point of a "concept" motorcycle. Instead of that motorcycle just being shown to demonstrate what a motorcycle company might do and then be shelved away or destroyed, it would actually be produced in a limited series and be less constrained by regulations.
The process was very collaborative and began what has become a large part of our early design process. With the help of Vintech, a subsidiary of D3 Groupe in France, we were able to not only complete the KRGT-1 update and a prototype 1s, but also arrive at EICMA with a running Method 143 prototype finished literally a day before EICMA 2017 began.
The choice to use carbon-fiber was obvious for the Method 143. We've always used carbon fiber wheels and other elements to complement design features and components on the KRGT-1. The 1s employs even more with its one-piece carbon-fiber fuel cell and integrated air intake.
Carbon fiber is extremely lightweight and strong when engineered and used properly. We wanted to take the use of that material even further than we have in the two previous models. It was a prerequisite to make the Method's entire chassis, fuel cell, air intake, seat support structure and all critical hard mounting points for things like the swingarm and engine mounts all a one-piece mono-cell structure. Plus, I'd envisioned a "layered concept" for the Method 143. The idea of a "master shape" interrupted only by the changing of materials and a visual realization that one grows out from under another or disappears under the next without actually touching one another (e.g., aluminum to leather to carbon fiber and so on).
Where do you see design going in the next 10 years for motorcycles?
Electric vehicle trends are obvious, and like cars, it is impossible to ignore that electric motorcycles will play an important role and could become the primary drivetrain of choice. I hope, in some way, the Internal Combustion Engine will survive for more years to come given the emotion they can bring to the riding experience.
And clearly technology will continue to feed safety features, rider comfort, user interface and performance in every way. I tend to ignore trends and focus on what we've always aimed to do: design and create artistic, soulful production motorcycles that accommodate a high level of personalization, both aesthetically as well as ergonomically.